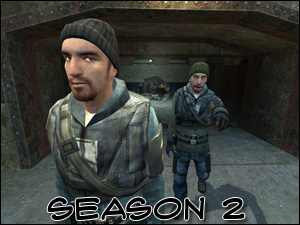 Season 2 of Catching the G-Man. The name of this series is later changed to Catching the Freeman which follows a story arc of the main characters trying to find Gordon Freeman - the protagonist of the Half-Life games.
It consisted of 30 issues (with the last one split into two parts). However only 9 are available. The first issue of season 2 (titled Episode 30.7) isn't really connected to the overall storyline.
It is followed by a Season 3.
The lead character continues his pursuit of The G-Man but finds a new change in plans when G-Man tasks him with capturing G-Man after capturing the lead character's friend Steve Zimmerman.
Missing episode details
Edit
At some point in between Episode 38 and Episode 46, Steve Zimmerman is captured by The G-Man who tasks the lead character and his friends to 'eliminate' Gordon Freeman. When one of the lead character's friends by the name of Nick ends up being burned alive, his unconscious body is dumped in the lake.
Comic Gallery
Edit